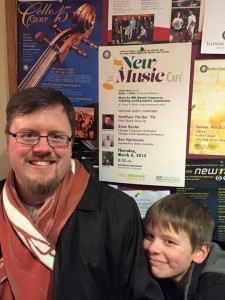 Contact Me:
mharder@westliberty.edu
Facebook Page
I am always interested in opportunities to perform, compose, record, and/or collaborate so feel free to contact me with your project ideas: mharder@westliberty.edu
Bio:
Matthew Harder is a composer, educator, percussionist, recording engineer, husband, and dad living in Wheeling, West Virginia. He holds degrees in music from Illinois Wesleyan University, Bowling Green State University, and Northwestern University. Dr. Harder teaches music technology and composition at West Liberty University in West Virginia and is currently serving as the interim Dean of the College of Arts and Communication. Dr. Harder writes acoustic and electroacoustic music for the concert stage, video, film, audio installations, and live performance. His works have been performed at/by the International Double Reed Society Conference, Oscillate Pittsburgh, the Western Pennsylvania Center for the Arts, the College Music Society Annual Conference, Juventas New Music Ensemble, Bowling Green State University New Music Festival, New York City Electroacoustic Music Festival, the Cleveland Chamber Symphony, West Virginia University, Indiana University of Pennsylvania, US Navy Band International Saxophone Symposium, North American Saxophone Alliance Biennial Conference, and the Ohio, West Virginia, and Texas Music Educators Association annual conferences.
In addition to my duties as interim Dean, I teach a full-load of courses for the Department of Music and Theater: Introduction to Music Technology, Recording Techniques 1 and 2, Electronic Music 1 and 2, Electronic Music Ensemble, Composition Lessons, and Music Technology Practicum.
My profile is featured on the Illinois Wesleyan University Music Alumni website: https://www.iwu.edu/music/faculty/compalumni.html
I am always interested in opportunities to compose, collaborate, and/or record your next project in West Liberty's state-of-the-art recording studio.